Member Spotlight
Prince William County's Award-Winning Learning Platform, H2Go Kids
Apr 12, 2023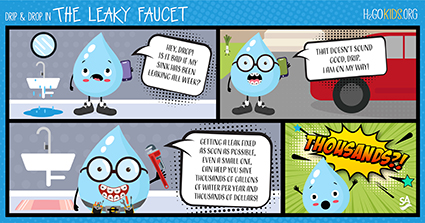 The Prince William County Service Authority is Virginia's largest combined drinking water and wastewater service provider, serving approximately 380,000 people. The Service Authority's Community Outreach Department delivers engaging programs and presentations for adults and children across the county to raise awareness about water resources and treatment, reaching about 10,000 students per year with lesson plans that align with Virginia's Standards of Learning. During the COVID-19 Pandemic, the Service Authority developed a new learning platform called H2Go Kids that effectively reached students in a virtual environment. Although social distancing restrictions have been lifted, H2Go Kids continues to provide a multi-faceted educational platform for students in Prince William County to learn about the importance of water and environmental stewardship.
To ensure a successful launch and long-lasting impression of H2Go Kids, the Service Authority created a distinctive logo and cartoon-like Drip and Drop mascots, which appear on all H2Go Kids videos, activity sheets, experiments and giveaways. Additionally, they purchased two domains – H2GoKids.org and H2GoKids.com – so students, parents and teachers could easily navigate to the site. Between September 2020 and September 2022, the Service Authority engaged more than 20,000 students through live and pre-recorded H2Go Kids videos, produced with in-house labor and resources. H2Go Kids continues to expand, with varied educational resources.
NACWA awarded the Prince William County Service Authority a 2023 National Environmental Achievement Award in the Public Information & Education: E-Media category for their creative educational resources. Congratulations to everyone involved!