Member Spotlight
South Carolina Utility Taps High School Technical Education Students to Establish Internship Program
Aug 16, 2022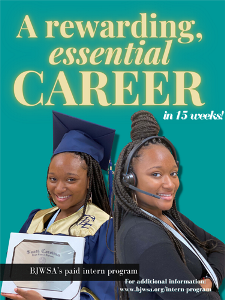 The Beaufort-Jasper Water & Sewer Authority (BJWSA) in South Carolina devised a creative solution to address the ongoing employment challenges it encounters in two entry-level departments, as well as encourage more community interest in clean water careers. BJWSA's customer service and field operations departments often provide a steppingstone to internal promotions. While providing a pipeline of employees for other parts of the utility, these departments were left in a constant state of hiring new staff.
To address the issue, the BJWSA Human Resources Department reached out to the Career and Technical Education (CTE) offices for both Beaufort and Jasper County school districts, whose mission is to encourage students to be career-ready through vocation pathways that help students learn technical and employability skills and earn industry credentials. In March 2020, BJWSA hosted two open houses with more than 60 students in attendance to solicit interest. Over several months, a plan emerged for BJWSA to host high school seniors in a 15-week paid internship program in the spring of 2021. In a region where high school graduates can expect to make little better than minimum wage, a paid internship at $12.00 an hour is an attractive prospect. The two districts and the Authority conducted a joint effort to recruit from the class of 2021, with a final pool of eight applicants. BJWSA staff interviewed candidates, asking 10 standardized questions, and scoring each prospect based on overall competencies. There was no guarantee of employment after the internship, however, candidates were in consideration based on performance.
Four finalists, two from each county, exceeded expectations during the interview process and were extended internships in the field operations and customer service departments. Training began immediately after orientation, with guidelines for supervisors to set expectations and metrics for achievement.
The program met the needs of the emerging workforce and BJWSA, with three of the four interns hired as permanent employees. The interns benefited from the opportunity by receiving practice skills in real-world scenarios, developing soft skills, observing professionals in action, and networking with potential employers.
Based on need, BJWSA was planning to add two positions for Water or Wastewater Operations to the intern offerings for Winter 2022, for a total of six prospective new employees. These interns will be paid $15.00/hour to compete with the current local market.
NACWA awarded Beaufort-Jasper Water & Sewer Authority a 2022 National Environmental Achievement Award in the Workforce Development category for its resourceful employment and community outreach solution. Congratulations to everyone involved!