Member Spotlight
Alexandria Renew Enterprises is Growing the Workforce of Tomorrow
Apr 7, 2021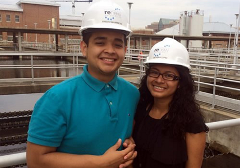 In 2013, Alexandria Renew Enterprises (AlexRenew), the wastewater treatment provider in Alexandria, Virginia, established a partnership with Urban Alliance (UA), a national nonprofit dedicated to supporting underserved youth through paid, professional internships, workplace readiness training, and mentorship. Building on its role as a resource to the community it serves, AlexRenew saw this partnership as an opportunity to bridge the gap of workforce development needs, while preparing Alexandria's most vulnerable young people for professional success. Since the partnership's start, AlexRenew has provided eleven local high school seniors with an annual internship at AlexRenew's water resource recovery facility, offering the chance to gain experience from AlexRenew's various departments.
Over a year-long internship, the UA interns, who are high school seniors from Alexandria's T.C. Williams High School, complete workforce development rotations through every department within AlexRenew. The department rotation schedule includes Administration, Information Technology, Human Resources & Safety, Communications, Finance, Engineering, Operations, Laboratory (water testing), and Maintenance. Through this process, interns see first-hand how each team contributes toward AlexRenew's overall mission and commitment to its community.
AlexRenew's interns are taught technical complexities, career options, and sustainable practices within the water workforce. The program helps students gain a comprehensive understanding of the importance of water sector careers, the essential public health service that wastewater utilities provide to communities around the country, and the value of a future career in this industry.
While workforce development remains a priority for AlexRenew, it is equally proud to partner with a nonprofit that supports the socioeconomic viability of the community it serves. UA has found the impact of fostering workforce training is realized by improved academic success, substantially higher college enrollment, and dramatically increased prospects for young people's long-term employment in our community. Urban Alliance proudly sustains a one-hundred percent graduation rate for all of the students that participate in this program.
For this valuable partnership program, AlexRenew was recognized with a 2021 National Environmental Achievement Award in the Workforce Development category. Congratulations to AlexRenew and everyone involved!