Tom Sigmund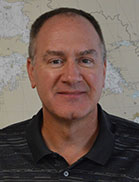 Executive Director
NEW Water
Green Bay, Wisconsin
Tom Sigmund is the Executive Director of NEW Water, the brand of the Green Bay Metropolitan Sewerage District, where he has been since 2007. NEW Water is a regional clean water utility providing wholesale conveyance and treatment services to 238,000 people in 15 municipalities. NEW Water has 101 employees and an annual budget of $45 million. NEW Water expresses its attitude of viewing the material sent to its facilities as a valuable resource to be recovered and reused and a commitment to continued improvement in the watershed.
Mr. Sigmund is a Professional Engineer in Wisconsin and Ohio. He serves as Vice-President of the Board of Directors for the National Association of Clean Water Agencies (NACWA) and was Chair of the NACWA Utility and Resource Management Committee. He served as Chair of the Water Resources Utility of the Future Task Force that developed the Water Resources Utility of the Future Blueprint for Action. Mr. Sigmund was a member of the Utility Advisory Group that developed numerous publications on Effective Utility Management including the Effective Utility management Primer for Water and Wastewater Utilities and the Sustainable and Effective Practices Roadmap, jointly prepared by NACWA, the Water Environment Federation (WEF), and the U.S. Environmental Protection Agency. Mr. Sigmund is a WEF Fellow, received the WEF William D. Hatfield award, and the WEF Schroepfer Innovative Facility Design Medal. He also received the NACWA President's Award.
Mr. Sigmund has a MS and BS in Civil and Environmental Engineering from the University of Wisconsin.