Early Bird Registration Deadline for 2019 NACWA Utility Leadership Conference Almost Here!
Apr 10, 2019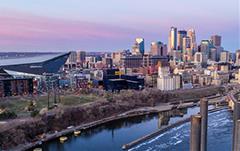 (April 10, 2019) – The Early Bird registration for NACWA's 2019 Utility Leadership Conference is April 16 – hurry and register today to take advantage of discounted registration!
The last decade has brought about significant changes – from the national level and the growing partisan divide, to the local level where utilities are playing an increasing-visible role in their communities. Challenges involving workforce, rate setting and affordability, and community and customer engagement are playing out both nationally and locally, putting utility executives in a position that presents both challenges and opportunities.
NACWA's 2019 Utility Leadership Conference will explore these and other issues facing utility leaders and provide strategies to help navigate the constantly evolving utility management environment.
Early Bird registration provides a discount off of regular registration rates – make sure to submit your registration by April 16 to take advantage of this opportunity!