House and Senate Water Subcommittee Assignments Announced
Feb 12, 2019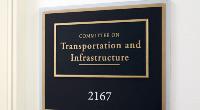 House and Senate Water Subcommittee Assignments Announced
(February 12, 2019) – The House Transportation & Infrastructure (T&I) Committee and the Senate Environment and Public Works (EPW) Committee have announced the final water subcommittee assignments for the 116th Congress.
NACWA utilities represented by any of these Members of Congress are encouraged to reach out to your elected officials and ensure the officials understand your key policy priorities. NACWA's Congressional Toolbox is a helpful resource to do this.
T&I Subcommittee on Water Resources and Environment
Majority Democrats
Grace F. Napolitano, California, Chair
Debbie Mucarsel-Powell, Florida
Eddie Bernice Johnson, Texas
John Garamendi, California
Jared Huffman, California
Alan S. Lowenthal, California
Salud O. Carbajal, California
Adriano Espaillat, New York
Lizzie Fletcher, Texas
Abby Finkenauer, Iowa
Antonio Delgado, New York
Chris Pappas, New Hampshire
Angie Craig, Minnesota
Harley Rouda, California
Frederica S.Wilson, Florida
Stephen F. Lynch, Massachusetts
Tom Malinowski, New Jersey
Peter A. Defazio, Oregon
(ex officio)
Minority Republicans
Bruce Westerman, Arkansas, Ranking Member
Daniel Webster, Florida
Thomas Massie, Kentucky
Rob Woodall, Georgia
Brian Babin, Texas
Garret Graves, Louisiana
David Rouzer, North Carolina
Mike Bost, Illinois
Randy K.Weber, Sr., Texas
Doug Lamalfa, California
Brian J.Mast, Florida
Gary J. Palmer, Alabama
Jenniffer González-Colón, Puerto Rico
Sam Graves, Missouri
(ex officio)
EPW Subcommittee on Fisheries, Water, and Wildlife
Majority Republicans
Kevin Cramer, North Dakota, Chair
Shelley Moore Capito, West Virginia
Mike Braun, Indiana
Dan Sullivan, Alaska
John Boozman, Arkansas
Roger Wicker, Mississippi
Richard Shelby, Alabama
Minority Democrats
Tammy Duckworth, Illinois, Ranking Member
Ben Cardin, Maryland
Bernie Sanders, Vermont
Sheldon Whitehouse, Rhode Island
Jeff Merkley, Oregon
Chris Van Hollen, Maryland