Association Active in VerdeXchange Meeting
Feb 6, 2019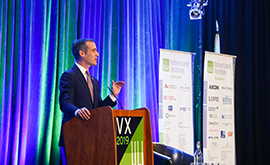 (February 6, 2019) – NACWA was thrilled to be a sponsor and active participant at last week's 2019 VerdeXchange meeting in Los Angeles.
The VerdeXchange is an annual meeting that brings together accomplished clean and green tech entrepreneurs, energy & water companies, clean water utilities, public policymakers, and others to discuss opportunities for advancement of green economic and environmental approaches. While the conference focus on developments and opportunities in California, it draws experts from around the country and develops ideas that can benefit public clean water utilities nationwide.
A number of NACWA members including the City of Los Angeles – LA Sanitation, the San Francisco Public Utilities Commission, and the Sanitation Districts of Los Angeles County participated in the conference. NACWA also was on a panel discussion around the opportunities for water reuse and recycling, highlighting the current national policy environment on the issue and how the water sector can best advance responsible policies that support innovative reuse programs while also protecting public health.