Andrew Wheeler Nominated to Become Permanent EPA Administrator
Jan 15, 2019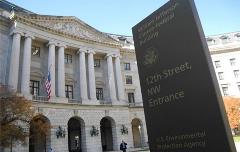 President Trump announced, on January 11, his nomination of Andrew Wheeler—who is now the acting Administrator of the EPA—to become his permanent selection for EPA Administrator. The Senate Environment and Public Works Committee will hold an initial hearing on Wheeler's nomination on Wednesday, January 16, before the process heads to the full Senate for a floor vote, which will occur at a later date.

Wheeler was EPA's Deputy Administrator until last July, when EPA's then-Administrator, Scott Pruitt resigned. Wheeler is not a stranger to environmental regulation or policy. He has served as a senior congressional aide to Senator James Inhofe (R-OK) and a career staffer with EPA on toxic substances as well as tenure working with energy companies.
NACWA looks forward to engaging with Wheeler on our advocacy initiatives, including our recent Water Resources Development Act (WRDA)-related priorities, and will keep members updated on the confirmation process as it unfolds.