NACWA Tracking Water Sector News
Oct 9, 2018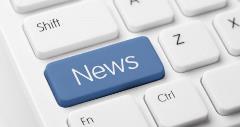 (October 9, 2018) - Ever wonder what's taking place across the water sector, but don't have time to sift through endless news stories? Then take a look at the Water Sector News & Trends section of the NACWA website to stay current on the latest happenings in water news.
Specifically curated from news sources across the country, this feature provides easy access to information on the latest technologies in wastewater treatment, legislative and regulatory developments, and more. Among the most recent stories NACWA is tracking include a wastewater treatment operator "boot camp," how the growth of internet-connected devices is changing operation of collection systems, and the important role that utility leaders play in their local communities.
If you have interesting news clippings you'd like to share, contact Toby Watkins for more information.