Join NACWA for Imagine a Day Without Water!
Sep 11, 2018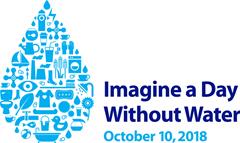 (September 11, 2018) – Many Americans take water for granted. They start their morning taking a shower, brushing their teeth, flushing the toilet, but few understand how the water from their faucet gets to and leaves their homes before being cleaned and returned to nearby rivers and streams.
NACWA is pleased to partner with the Value of Water Campaign once again this year on October 10th to Imagine a Day Without Water and raise awareness about the value of water and issues facing the critical infrastructure every home and business in America relies on. Your utility can help spread this important message within your local community and help elevate the importance of water at a national level. Sign up today!