Final International Flushability Specification Now Available
Jun 4, 2018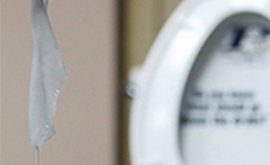 (June 5, 2018) - The International Water Services Flushability Group (IWSFG) has published a final version of its flushability specification, which is designed to protect sewer systems and wastewater treatment facilities by ensuring that products labeled "flushable" break apart quickly after flushing and will not cause damage to infrastructure or the environment.
The IWSFG is an international group of wastewater utilities and the associations representing them, which share a common goal of reducing the problems caused by the inappropriate flushing of consumer products, including wipes. NACWA has participated in the development of the flushability specification as part of its ongoing Toilets Are Not Trashcans™ campaign.
The IWSFG specification underwent two rounds of public comment, with the IWSFG considering numerous comments from the wipes industry and utilities to develop the final specification. The specification may be useful in establishing state and local regulations related to the flushability and labeling of wipes and other products.
Membership in the IWSFG is open to national, state, and regional associations, as well as individual utilities. Currently, the IWSFG membership has six national associations, including NACWA, and two NACWA member utilities. NACWA members who are interested in supporting the flushability specification are encouraged to join the IWSFG by contacting Cynthia Finley, NACWA's Director of Regulatory Affairs.