NACWA Carries Stormwater Message to Oregon
May 15, 2018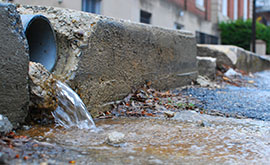 (May 15, 2018) - NACWA delivered a national update on its regulatory, legislative, and legal stormwater advocacy efforts at the annual Stormwater Summit, hosted by the Oregon Association of Clean Water Agencies (ORACWA) last week in Eugene, OR. The event drew stormwater managers from across the state to hear the latest information and perspectives on a wide variety of issues ranging from TMDLs, emerging contaminants, education and outreach, as well as adaptation and resiliency.
NACWA has ongoing support and involvement with member utilities in Oregon over their stormwater concerns. Recently, Oregon's Department of Environmental Protection (DEP) issued a draft Phase II MS4 stormwater permit that requires permittees "not cause or contribute to a violation of a water quality standard," rather than the traditional maximum extent practicable (MEP) standard, which could set dangerous precedent if finalized "as is."
For more information on the event or NACWA's stormwater advocacy, contact Emily Remmel, NACWA Director of Regulatory Affairs and Outreach.