Strategic Communications Key to Advocacy Effectiveness
Apr 17, 2018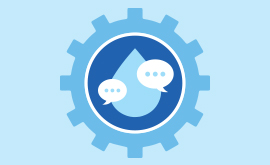 (April 16, 2018) – Water Infrastructure Investment. Consent decrees. Integrated planning. Rate affordability. Your utility can be 100% correct on the issues, and still suffer negative blowback due to poorly executed communications on advocacy matters.
NACWA's second annual conference, Strategic Communications:H2O, on June 6-7 in Chicago, IL, is designed to meet this growing need among clean water utilities. Registration is now open for utility leaders and water communications professionals. This is why you should attend…
Compelling Agenda: StratComm will feature both water sector and non-sector communication experts to address strategic clean water communication issues;
More Basics: Sessions will unpack the latest (even forward-looking) communications trends/issues that impact the water sector, and identify opportunities for growth;
Focused Networking: Connect easily, and become part of a collaborative, nationwide network of water utility communicators; and
Takeaways: Follow-up resources and collaboration opportunities will help ensure that your StratComm: H2O benefits extend beyond the event, to an ongoing peer-to-peer communications support.
StratComm: H2O is designed to empower forward-thinking clean water leaders to take hold of their communications platform, maximize its resources, and direct it toward a valuable, measurable return on investment. Join us as we share expert strategies, resources and peer-to-peer solutions from some of the best water sector communicators in the country - and come away with concrete action plans to improve your platform and grow your nationwide network. Register today!