Join the Water Week Coalition as a Supporting Organization!
Mar 6, 2018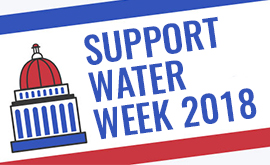 (March 6, 2018) - As the Trump Administration advances its infrastructure priorities, water issues have emerged as an important focal point among a crowded field of legislative priorities. To keep the momentum building, water advocates need the support and participation of the entire water sector during Water Week 2018, one of the clean water sector's premiere advocacy outreach events.
One way to participate is by serving as a Water Week Supporting Organization. Drawing from a diverse group of interests, the Supporting Organizations represent the vast spectrum of issues impacting the water sector. There is no cost involved in becoming a Supporting Organization, and your agency's logo will be displayed with other supporters on the Water Week 2018 website.
If you are interested in participating, contact Oliver Hamilton NACWA's Manager, Government Affairs, for more information. Join us and help elevate water as a national priority!