NACWA Releases Environmental Justice & Community Service Compendium
Jul 18, 2017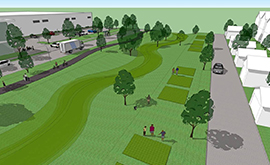 NACWA released a new report July 13 outlining environmental justice and community service efforts by municipal clean water utilities, and highlighting the important work being done by many NACWA members to better engage with their communities.
The document, entitled Opportunities for Municipal Clean Water Utilities to Advance Environmental Justice & Community Service, was released via a press call featuring speakers from a number of NACWA member utilities that are included in the compendium or focused on critical environmental justice/community service efforts in their communities. There has already been positive coverage of the publication in the press.
The compendium includes case studies from NACWA member utilities describing environmental justice and/or community service projects to better connect with and serve communities. The document also includes a series of findings and recommendations, summarizing common themes from the case studies and providing suggestions on how other interested clean water agencies can pursue similar projects. More information on the compendium can be found in Advocacy Alert 17-05.