Flurry of Hill Activity Includes Clean Water Bills Advancing NACWA Priorities
May 9, 2017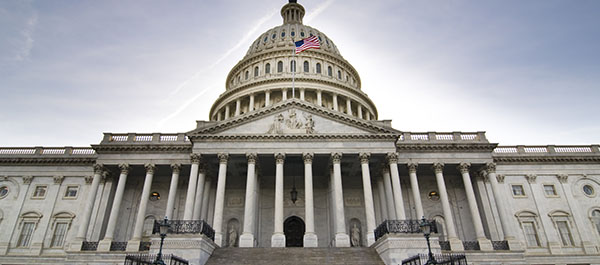 Capitol Hill was a busy place last week, as legislators passed a $1.2 trillion Continuing Resolution for FY 2017 spending to avoid a government shutdown and the House approved a healthcare reform bill. In addition to these major Congressional priorities, legislators also introduced several important pieces of water legislation. These bills represent important steps in addressing key NACWA advocacy priorities, including funding water infrastructure, providing clean water agencies with flexibility in meeting Clean Water Act (CWA) obligations, and addressing low-income ratepayer affordability concerns.
First, a bipartisan bill on Integrated Planning was introduced in the House as a companion to S.692, the Water Infrastructure Flexibility Act. The bill was introduced by Reps. Bob Latta (R-OH), David Joyce (R-OH), Cheri Bustos (D-IL), Lloyd Smucker (R-PA), Grace Napolitano (D-CA) and Marcia Fudge (D-OH). Like S.692, which was reported out of the Senate Environment and Public Works Committee last month, the House bill would codify EPA's Integrated Planning Framework, require EPA to integrate green infrastructure approaches throughout its CWA compliance programs, require EPA to revise its 1997 Combined Sewer Overflow (CSO) Financial Capability Guidance, and establish a Municipal Ombudsman in the EPA Office of Administrator. This proposal joins other key legislation on Integrated Planning, including H.R. 465, the Water Quality Improvement Act of 2017, introduced earlier this year by Rep. Bob Gibbs (R-OH).
On the affordability front, Rep. Marcia Fudge (D-OH) re-introduced H.R. 2328, the Low-Income Sewer and Water Assistance Program Act (LISWAP), which would require EPA to establish a pilot program in at least 10 communities to provide financial help to low-income households in maintaining access to sanitation services. The legislation would also require EPA to submit a report to Congress within one year on the effectiveness of these low-income assistance programs. NACWA supports this legislative proposal to help address the growing affordability challenge and take a step toward enabling true-cost pricing.
Anyone with questions on these legislative developments can contact Kristina Surfus, NACWA's Legislative Director.