NACWA Committee Discusses Blending, Wet Weather Treatment
May 2, 2017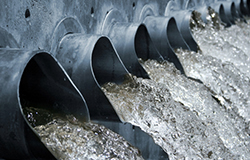 The NACWA Facility & Collection System (FACS) Committee held a web meeting on April 27 to discuss blending and wet weather treatment, including recent legal developments and potential regulatory reform related to blending, which is a focus for NACWA advocacy with EPA.
The Water Environment Federation (WEF) Wet Weather Treatment Work Group also presented its plan to collect and analyze performance data for various wet weather treatment systems. The goal of the project is to produce a report that will assist engineers and utilities in determining the types of treatment that will work best for different situations.
FACS Committee Co-Chair Dave Wagner, City of Lawrence Department of Public Utilities, KS, encouraged NACWA members to assist the WEF Work Group in this effort by providing relevant data from their utilities. More information will be sent to NACWA members soon about how to do this.
For more information about the meeting, including the presentations used during the meeting, please contact Cynthia Finley, Director, Regulatory Affairs.