Clean Water Current
NACWA, WEF Testify Before Congress On Water Infrastructure Needs
Feb 12, 2019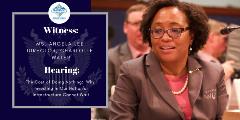 (February 12, 2019) – The Director of Charlotte Water, Angela Lee, testified on behalf of NACWA and the Water Environment Federation (WEF) last week before the full House Transportation and Infrastructure (T&I) Committee regarding the specific needs of the clean water sector.
The Committee's hearing, entitled The Cost of Doing Nothing: Why Investing in Our Nation's Infrastructure Cannot Wait, examined the current state of the nation's infrastructure issues and needs across a wide array of sectors—among them clean water, highways, bridges, transit systems, ports, and airports. The hearing was the committee's first of the year, kicking off what is expected to be several months of congressional work on a bipartisan infrastructure package.
During her testimony and responses before the committee, Director Lee discussed the vital services and economic drivers that public clean water utilities provide for their respective communities, and the need for strong federal investment in clean water through the State Revolving Fund (SRF) and other federal programs.
Lee also discussed ways to address affordability concerns, long-term workforce issues, and climate resiliency. This important hearing sets the stage to ensure that clean water remains an integral part of any infrastructure conversation and legislative package moving forward.
NACWA thanks T&I Committee Chairman, Peter Defazio (D-OR), and Ranking Member Sam Graves (R-MO), for inviting Director Lee to be a witness, and for their bipartisan commitments to the public clean water sector.
NACWA looks forward to continued collaboration with the committee during the 116th Congress. Please contact Kristina Surfus or Jason Isakovic, NACWA's Legislative Directors, with any questions.