Clean Water Current
Second Circuit Hears Oral Argument in Groundwater Conduit Theory Litigation
Apr 24, 2018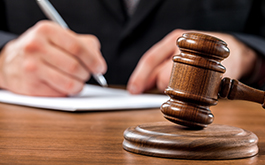 The US Court of Appeals for the Second Circuit heard oral arguments on April 18 in 26 Crown Associates, LLC v. Greater New Haven Water Pollution Control Authority, another in a line of federal lawsuits examine if the role of the Clean Water Act (CWA) in regulating pollutants to groundwater.
The appeal involves a claim against NACWA Member Agency, Greater New Haven Regional Water Pollution Control Authority, alleging that the city's sewer system resulted in continuing and chronic backflows of sewage into the basement of a local property, which in turn resulted in releases of untreated sewage directly into the Long Island Sound. The plaintiff argues that wastewater seeps from basements into groundwater then migrates into hydrologically connected navigable waters resulting in a violation of the CWA.
The appeal arises from the district court's dismissal of the complaint based on the failure of the plaintiffs to state a claim. In dismissing the complaint, the district court explained that the CWA requires that there be a discharge of pollutants to navigable waters, and the plaintiffs failed to plead sufficient facts to suggest that the backflows into their basement actually reached the Long Island Sound. The court also rejected the conduit theory, reasoning that passive migration of pollutants through ground water does not suffice as a matter of law to state a claim under the CWA.
At oral argument, the three-judge panel of the Second Circuit seemed disinclined to reach the merits of the conduit theory, focusing instead on the plaintiff's lack of standing to bring the claims at all. The panel focused on the fact that the plaintiff did not sufficiently show that it had been harmed by discharges reaching the Sound, a critical element of standing under the CWA. Some discussion centered on whether migration of pollutants through groundwater into the Sound could result in liability under the CWA, with the panel referencing the complexities created by the Rapanos decision and noting that the case law surrounding the conduit theory is equally murky.
In November 2017, NACWA and 25 other entities joined a brief filed by the City of New York in the appeal, urging the Second Circuit to uphold the lower court's decision dismissing the suit and rejecting the CWA liability arguments. The case is one of several cases pending in federal appeals courts focused on the groundwater conduit theory. EPA is also considering potential rulemaking to address the question of whether pollution that migrates through groundwater into hydrologically connected navigable waters is subject to regulation under the CWA, and Congress recently held a hearing on the issues as well.