Clean Water Current
NACWA Testifies at House Hearing on Water Infrastructure Needs
Sep 26, 2017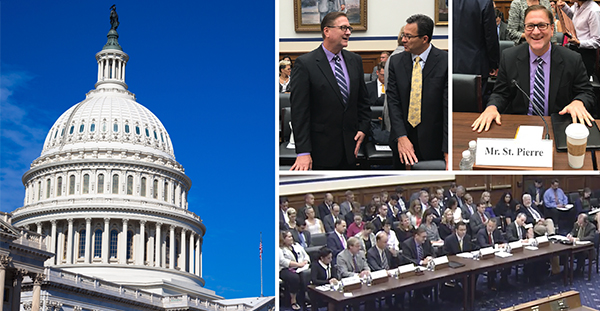 (September 26, 2017) - NACWA's Vice President and Executive Director of the Chicago Metropolitan Water Reclamation District (MWRD), David St. Pierre, testified today on behalf of NACWA before the House Subcommittee on Water Resources and Environment at a hearing titled, Building a 21st Century Infrastructure for America: Water Infrastructure Stakeholder Perspectives. The purpose of the hearing was to gather stakeholder perspectives on legislative proposals on key water issues, particularly in the arenas of funding and regulatory reform.
St. Pierre's testimony highlighted the many water infrastructure needs facing public clean water utilities around the nation, and emphasized the importance of strong federal funding to help address these needs. He noted NACWA's desire for increased funding to the State Revolving Funds (SRFs) and the Water Infrastructure Finance and Innovation Act (WIFIA) program, advanced support for a low-income water assistance program, and underscored in very clear terms why water infrastructure must be a significant part of any comprehensive national infrastructure package.
St. Pierre also touched on the growing interest within the water sector around various types of partnerships, including "public-public" and "public-private" partnerships, that can help advance clean water – particularly for small utilities where there are opportunities for economies of scale, or for sharing of resources and expertise. Other parts of NACWA's testimony touched on the drive to incorporate integrated planning concepts into the Clean Water Act (CWA), and the potential of extending CWA discharge permit terms beyond five years.
NACWA appreciates the fact that the Subcommittee looks to the Association and its members for input into the establishment of national clean water policy. Other witnesses testifying at the hearing were:
David W. Pedersen, P.E., General Manager, Las Virgenes Municipal Water District, on behalf of the Association of California Water Agencies and the California Association of Sanitation Agencies (Las Virgenes Municipal Water District is also a NACWA Member)
Hector Gonzalez, Government Affairs Manager, El Paso Water Utilities (El Paso Water Utilities is also a NACWA Member)
James M. Proctor, II, Senior Vice President and General Counsel, McWane, Inc. (will also speak to shared concepts developed by an ad hoc water sector coalition with which NACWA is closely involved)
The Honorable Joy Cooper, Mayor, City of Hallandale Beach, Florida, on behalf of the U.S. Conference of Mayors
Christopher Franklin, President and CEO, Aqua America, on behalf of the National Association of Water Companies
Lawrence Levine, Senior Attorney, Natural Resources Defense Council
Similar hearings on other infrastructure sectors will be held this month as part of a formal effort in the House to gather input for a potential infrastructure package.
A recorded video of the hearing is available here. Contact Kristina Surfus, NACWA Legislative Affairs Director, to discuss the hearing or congressional efforts on infrastructure issues.