Member Spotlight
The LOTT Clean Water Alliance Goes Virtual to Spotlight Its Vital Work
Dec 1, 2022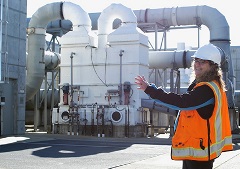 The LOTT Clean Water Alliance (LOTT) treats wastewater from homes and businesses in Lacey, Olympia, and Tumwater, in Thurston County, Washington, serving more than 119,000 people. Since 2010, LOTT's education and outreach efforts have been delivered primarily through its award-winning WET Science Center, with interactive exhibits and educational programming focused on the importance of wastewater treatment, the highly sophisticated processes involved, and the exceptional staff who keep things running.
Before the pandemic, LOTT gave frequent tours to various groups, averaging over 2,000 tour participants per year. When the pandemic forced LOTT to discontinue tours and close the WET Science Center, LOTT's Communications and Education team quickly adapted to maintain valued connections in the community and with partnering school districts. The team developed an engaging plant tour video and a series of related short videos to help fill the void created by the WET Science Center closure and suspension of plant tours. Even after tours resume, the new video series will remain a valuable and effective tool in their outreach toolbox.
NACWA awarded the LOTT Clean Water Alliance a 2022 National Environmental Achievement Award in the Public Information and Education category for its engaging virtual outreach campaign. Congratulations to everyone involved!