Member Spotlight
The City of Springfield, OR Leverages Educational Video to Engage Community on CMOM Program
Jun 15, 2022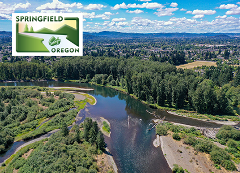 Over the past several years, the Operations Division of the City of Springfield's Development and Public Works Department (DPW), working with the Community Development Division, developed and implemented a Capacity, Management, Operations, and Maintenance (CMOM) program. Springfield is using the CMOM program to guide its sustainable and responsible stewardship of the community's wastewater collection system.
With community awareness of wastewater infrastructure and maintenance being low, Springfield's DPW sought to develop a communications piece that could educate Springfield residents, Springfield City Council, and Commissioners for the Metropolitan Wastewater Management Commission (MWMC), the regional wastewater entity in the Eugene-Springfield area, on the many practices in place, including the CMOM program, to proactively preserve Springfield's local wastewater system in a financially responsible way.
To meet this need, Springfield DPW communications staff conceptualized and produced a video to tell the story of the activities that make up the CMOM program in a visually compelling way, show a day in the life of Operations staff, and invite community members to join the effort of preserving and extending the life of the wastewater collection system through their everyday habits.
Staff interviewed Springfield DPW's Operations Associate Manager over wastewater and Springfield's City Engineer, as well as the MWMC's Executive Officer, and then worked with an Operations Apprentice to serve as the narrator for the video. Additionally, communications staff joined the Operations team numerous times in the field, shooting videos of activities such as a wastewater pipe repair, CCTV inspections, and high-velocity cleaning. This footage, along with several graphics produced in-house, were included in the video to demonstrate the scope of the operation staff's work and the need for the ongoing support of the CMOM program.
The video was produced in just about eight weeks, from start to finish. It was shared with Springfield community members through the City's YouTube channel, social media pages, and website starting in December 2020 and into 2021 and garnered a positive response. The video continues to be used as an educational tool for the community.
NACWA awarded the City of Springfield, OR a 2022 National Environmental Achievement Award in the Public Information & Education: Video category for its creative, educational video. Congratulations to everyone involved!