Member Spotlight
Milwaukee Metropolitan Sewerage District's Historic Biosolids Innovation Recognized
Feb 24, 2022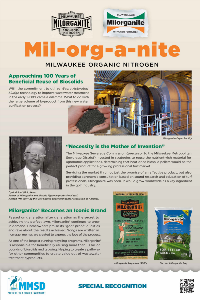 Since 1926, the Milwaukee Metropolitan Sewerage District (MMSD) has led the way in cost-effective, environmentally beneficial, and consumer-friendly strategies of biosolids management. MMSD has diverted over ten billion pounds of nutrient-rich fertilizer pellets to residential, professional, and agricultural markets, effectively creating a fertilizer product category that enjoys an ever-growing fan base and a roadmap for other wastewater utilities to follow.
The Milorganite® program is considered one of the nation's longest-running recycling efforts. MMSD's unique approach in historically marrying biosolids processing technology, agronomic research and development, operations, and marketing has made Milorganite® an iconic biosolids fertilizer brand.
Milorganite® was born out of the demand to improve water quality in the city of Milwaukee, Wisconsin. More than nine decades ago, sewerage from Milwaukee's growing population and industrial activities put the waterways and residents at risk.
Rather than disposing of the plentiful, nutrient-rich microbes into landfills, Milwaukee's answer was to produce Milorganite® (Milwaukee-Organic-Nitrogen). As is common practice now for many utilities, MMSD captures wastewater from the metropolitan Milwaukee area using large-scale processes that mimic nature; then microbes digest the nutrients found in the water. The cleaned water is returned to Lake Michigan while the microbes are heat-dried into small pellets, packaged, and sold across the USA.
Today, Milorganite® is one of the oldest branded fertilizers in the market and remains one of the nation's oldest recycling efforts. Milorganite® continues to lead the country in the beneficial reuse of biosolids in the retail fertilizer market. Since 2018, Milorganite® has been in short supply across the USA due to increased consumer demand. For nearly 95 years, the sales of Milorganite® have helped offset the operating expenses for MMSD operations and continue to help protect Milwaukee's water and community.
NACWA awarded the Milwaukee Metropolitan Sewerage District a 2022 National Environmental Achievement Award in the Special Recognition category for its innovative approach to biosolids reuse – national recognition that is long overdue. Congratulations to everyone involved!