Member Spotlight
Member Spotlight: The City and County of Honolulu Develop the Perfect Wastewater Analogy to Educate the Community
Nov 17, 2021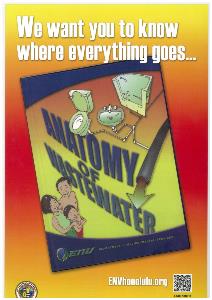 The children's book, Anatomy of Wastewater, is an in-house production developed by the Department of Environmental Services and the City and County of Honolulu's Design and Print Center at the Department of Customer Services.
The book is a creative way to educate the local keiki, or children, on how similar the human body is to Honolulu's wastewater system. The book was published several years ago, but a revised and reprinted version was released this year. It has been placed in almost all the public libraries on Oahu and provided free of charge to nearly all the elementary schools in Honolulu.
The story features a local family at the beach and the parents help educate their inquisitive child who begins asking what happens after he eats his musubi (rice and spam wrapped in dry, roasted seaweed). The mother is a doctor, and the father works at the wastewater treatment plant. The parents provide a simple explanation within both of their disciplines to provide a clear picture to their child. It's a very simple primer to the wastewater system.
NACWA awarded the City and County of Honolulu, HI a 2021 National Environmental Achievement Award in the Public Information & Education, Printed Publication category for its creative and educational children's book. Congratulations to everyone involved!