Roger S. Bailey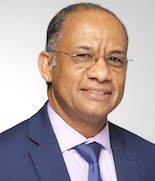 Roger Bailey
General Manager
Central Contra Costa Sanitary District - Central San
Martinez, CA
For most of his professional career, Roger S. Bailey has led several major municipally owned water and wastewater operations across the US. He currently serves as the General Manager of the Central Contra Costa Sanitary District, which provides wastewater and household hazardous waste disposal services to an area in the East San Francisco Bay Area covering 146 square miles, including twelve local jurisdictions which has a combined population of approximately 500,000.
Previously, he served as the head of the City of San Diego Public Utilities Department, one of the largest and most complex water and wastewater utilities in the country. Under his leadership, the San Diego Utilities Department (SDPUD) provided the highest quality and most cost effective utility services to over 1.5 million water customers, and over 2.2 million wastewater customers. In recognition of his many contributions to SDPUD, the City Council declared July 30th, 2013, "Roger S Bailey Day" in the City of San Diego.
Prior to joining the City of San Diego, he served as Utilities Director and Deputy City Manager for the City of Glendale, Arizona. He also served as Utilities Director for the City of Royal Palm Beach, Florida; Assistant Utilities Director for the City of Valdosta, Georgia; and Senior Engineer with the City of Tallahassee Water Utilities Department.
Mr. Bailey is a registered professional engineer in Arizona and Florida. His professional affiliations include the NACWA, ASCE, WEF, AWWA and WateReuse. His education includes M.S. and B.S. degrees in Civil Engineering from Florida A&M University. He also holds a B. S. degree in Physics and Mathematics from the University Of Winnipeg, Canada.