Kishia L. Powell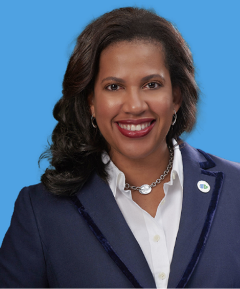 General Manager/Chief Executive Officer
WSSC Water
Laurel, MD
Kishia L. Powell has over 24 years of experience in both the public and private sectors across the U.S. and London, England. Powell currently leads a team of 1,680 strong at WSSC Water and manages the day-to-day operations of the largest water utility in Maryland – 8th largest in the country – and ensures water and water resource recovery services are safely provided to 1.9 million customers throughout a 1,000-square-mile service area.

Prior to being selected to lead WSSC Water, Powell served as DC Water's Chief Operating Officer and Executive Vice President. During her tenure at DC Water, Powell championed several initiatives, including a focus on operationalizing equity and environmental justice. She provided oversight for DC Water's 10-year $6.4 billion capital improvement program and led the implementation of workstreams under the utility's strategic plan imperative for reliability.

Before DC Water, Powell was the City of Atlanta's Commissioner of Watershed Management, overseeing $644 million in annual operating expenditures and a five-year capital improvement plan of $1.26 billion. Powell previously served as the City of Jackson, Mississippi's Public Works Director and Bureau Head of Water and Wastewater for the City of Baltimore, where she was recognized by the Chesapeake Water Environment Association as a Water Hero in 2010. A licensed Professional Engineer in Maryland, Virginia and the District of Columbia, Powell holds a Bachelor of Science in Civil Engineering from Morgan State University's Clarence M. Mitchell, Jr. School of Engineering.