David L. Gadis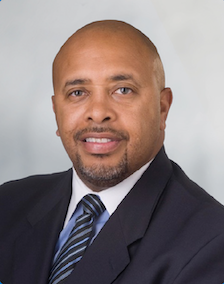 General Manager/Chief Executive Officer
DC Water
Washington, DC

David Gadis joined DC Water as CEO in May 2018. Mr. Gadis brings 20 years of industry experience to the role, most recently as Executive Vice President of Veolia North America, where he led North American business development operations, and was responsible for corporate growth and $3 billion in revenue.
Prior to his service at VNA, Mr. Gadis also worked as CEO and President of Veolia Water Indianapolis. He was its first African American CEO/President and the first African American CEO to lead a major utility in Indianapolis. In that position, he managed the operations of the city's water utility that employed more than 600 employees and served more than 1 million customers and 360,000 rate payers.
Mr. Gadis has been a frequent presenter at utility and government services conferences, including the U.S. Conference of Mayors, speaking on both Underground Infrastructure and Managing Utilities, as well with the National League of Cities and the National Association of Public Private Partnerships. His expertise in demonstrating how private firms can help municipalities as valued partners in securing significant cost savings, has earned him a reputation among city and municipal leadership as an innovative leader and a trusted partner who truly understands their challenges and desired goals.
Mr. Gadis is Chairman of the Board of Blue Drop, DC Water's nonprofit sales and marketing affiliate, and has served on the Boards of the Indianapolis Urban League, Fifth Third Bank, Central Indiana Corporate Partnership, Indianapolis Sports Corporation, Indiana Business Diversity Council, Greater Indianapolis Chamber of Commerce, the Indiana Chamber of Commerce, and Indianapolis Downtown Inc.
Gadis attended Pike High School in Indianapolis, where he was the school's first Indiana All Star basketball player. He earned a basketball scholarship to Southern Methodist University and was a four-year basketball player and team captain before graduating from SMU with a B.A. in Marketing Communications. Gadis was inducted to the Indiana Basketball Hall of Fame in 2014.
About DC Water
The District of Columbia Water and Sewer Authority (DC Water), is an industry leading multi-jurisdictional utility that provides drinking water, wastewater collection and treatment for millions of visitors, residents and employees in the District of Columbia, and also collects and treats wastewater for a population of 1.6 million in Montgomery and Prince George's counties in Maryland and Fairfax and Loudoun counties in Virginia.
DC Water's service area covers approximately 725 square miles and the enterprise operates the world's largest advanced wastewater treatment plant with a capacity of 384 million gallons per day and a peak capacity of 1.076 billion gallons per day. DC Water's Clean Rivers Project is in the process of constructing deep tunnels, a new wet weather treatment facility, and green infrastructure on an unprecedented scale, to eliminate untreated combined sewer overflows to local waterways.