Calvin D. Farr, Jr.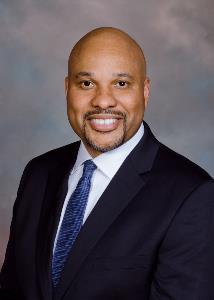 General Manager/Chief Executive Officer
Prince William County Service Authority
Woodbridge, VA
Calvin D. Farr, Jr. is the General Manager/CEO for the Prince William County Service Authority (PWCSA), the largest combined water and wastewater utility in Virginia, serving more than 360,000 customers in a growing and diverse community of Prince William County, VA. PWCSA is a nationally recognized model for excellence, sustainability, industry best practices and environmental stewardship. Mr. Farr has 25 years of public and private sector utility industry experience, including water, wastewater, stormwater, and natural gas.
Before joining PWCSA, Mr. Farr was the Director of Public Utilities (DPU) for the City of Richmond, VA. DPU serves more than 500,000 customers in the City and the surrounding metropolitan region. Within Virginia, DPU is one of the largest water producers and maintains the largest combined sewer system. The department is also leading the effort to implement a long-term Clean Water Plan to achieve "Cleaner Water Faster" through the RVAH2O Initiative, an innovative partnership between city government and passionate citizens to make progress by reducing pollution and flooding and keeping waters swimmable.
Mr. Farr also served as the Assistant Commissioner for the Department of Watershed Management for the City of Atlanta, GA, with direct oversight of the department's operations including water distribution, wastewater collection, water and wastewater reclamation, and Consent Decree Program Management. Before that he was a Group Leader at the Washington Suburban Sanitary Commission (WSSC) in Laurel, MD overseeing water and wastewater asset management, wastewater maintenance, capital improvement program development, and Consent Decree reporting and compliance. Before joining WSSC, he spent 10 years at URS and AECOM serving in major wastewater project and program management roles.
Mr. Farr holds an Executive Masters of Public Management from the University of Maryland, College Park, a Masters of Environmental Engineering from the Johns Hopkins University, and a Bachelor of Science in Civil Engineering from the Old Dominion University. Mr. Farr is also a registered Professional Engineer in Virginia, Maryland, and the District of Columbia. In addition, he is a graduate of the Water and Wastewater Leadership Center.