Gordon Pederson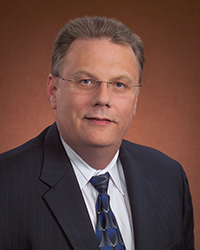 Gordon Wayne Pederson, Jr.
Chief Technical Officer
Gulf Coast Authority (GCA)
Houston, TX
Gordon is the Chief Technical Officer for Gulf Coast Authority (GCA). As such, Gordon is responsible for GCA's Regulatory Compliance, Information Technology, Technical Services and Safety divisions. He is also responsible for GCA's Odessa South Wastewater Treatment Facility and Blackhawk Municipal Operations which includes a 9.25 MGD regional wastewater treatment plant and the contract operation of a small wastewater treatment facility. The Odessa South Facility is a regional industrial wastewater treatment plant located in Odessa, Texas that also provides treated water for reuse in oil field operations.

Gordon is past president of the Texas Association of Clean Water Agencies. He held the previous offices of Secretary and Vice President prior to serving as President.
Gordon also serves on several local committees in the Houston-Galveston area, including the Galena Park – Jacinto City Community-Industry Partnership, the Natural Resources Advisory Council coordinated by the Houston-Galveston Area Council and the Water and Sediment subcommittee of the Galveston Bay Estuary Program.
Gordon graduated from Texas A&M University with a B.S. degree in psychology.