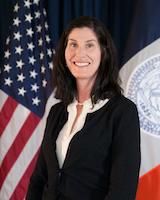 Deputy Commissioner of Sustainability
NYC Department of Environmental Protection
Flushing, NY
Angela Licata is the Deputy Commissioner for Sustainability for the New York City Department of Environmental Protection (DEP). The range of programs under Ms. Licata's purview reflects the broad mandate of the Department. During her tenure at DEP, Ms. Licata has gained a nuanced understanding of nearly every aspect of the operations of the Department. She has put her knowledge and creativity to work identifying 21st Century solutions to the challenges faced by the city, and DEP initiatives have played prominently in citywide sustainability planning under Mayor Bloomberg's PlaNYC and Mayor de Blasio's OneNYC. Under Ms. Licata's guidance, the Department released the 2010 NYC Green Infrastructure Plan to manage stormwater runoff from paved surfaces, before it enters the combined sewer system. Furthermore, Ms. Licata played a key role in guiding the City's preparation for its first Municipal Separate Storm Sewer System (MS4) permit, which presents an opportunity to achieve further water quality improvements. Ms. Licata was also instrumental in revising and modernizing the New York City Air Code in 2015, the first major overhaul since the 1970s.
Ms. Licata plays a key advisory role for the Department as well. She has developed an extensive list of studies – including water rate studies, affordability analyses, consumption tracking, demand projections, and the 2013 NYC Wastewater Resiliency Plan – and has used these plans and studies as a rational basis when advocating for common-sense regulatory reforms. Deputy Commissioner Licata has dedicated her career to public service, and plays a crucial role in envisioning, developing, and implementing programs aimed at improving the health and quality of life of all New Yorkers.